The Glenfiddich Grand Cru 23
Selamat datang di dunia kecemerlangan dan kenikmatan sensorik dengan The Glenfiddich Grand Cru 23 , sebuah karya seni dalam dunia whisky yang menggabungkan keunikan sejarah, asal-usul yang memikat, proses pembuatan yang penuh ketelitian, dan cara penyajian yang memperkaya pengalaman menikmati whisky.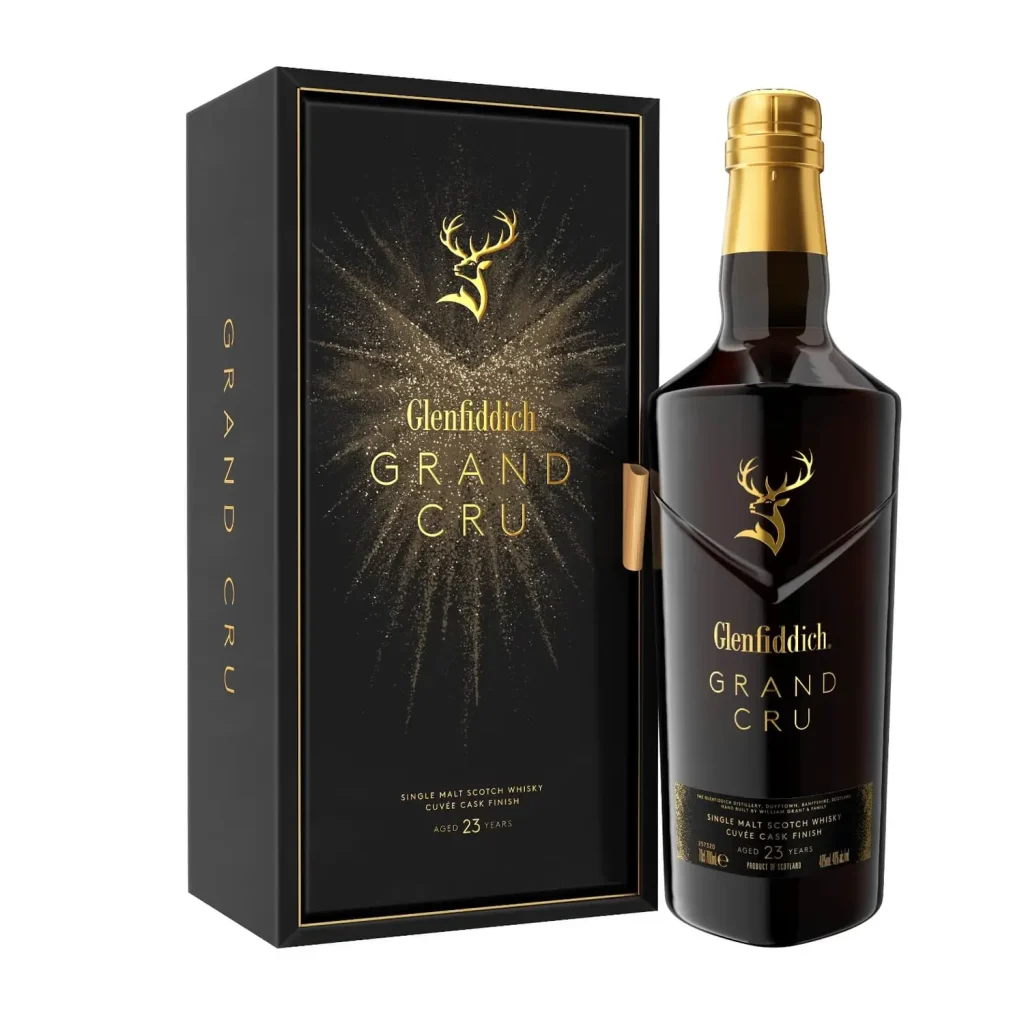 Sejarah Glenfiddich Grand Cru: Kisah Panjang Tradisi dan Keunggulan
Glenfiddich, sebagai salah satu destileri tertua dan terkenal di dunia, telah melangkah jauh sejak didirikan pada tahun 1887. Glenfiddich Grand Cru 23  adalah perwujudan keahlian dan dedikasi yang telah melekat dalam setiap tetesnya.
Asal-usul yang Memikat: Tanah Tinggi Skotlandia yang Memberi Karakter
Whisky ini lahir di tanah tinggi Skotlandia, di mana iklim dan lingkungan menciptakan karakter unik. Air jernih dari sumber mata air Highland dan tanaman jelajah memberikan Glenfiddich Grand Cru 23 Year Old kekhasan yang sulit ditandingi.
3. Cara Pembuatan yang Penuh Ketelitian: Proses Distilasi yang Melahirkan Keanggunan
Pemilihan Tong Kayu yang Teliti:
Whisky Glenfiddich Grand Cru 23 Ydipindahkan ke tong kayu ekstra yang sebelumnya digunakan untuk mematangkan anggur yang mewah.
Penuaan yang Berkesinambungan:
Proses penuaan selama 23 tahun menghasilkan kekayaan rasa dan kompleksitas yang menjadi ciri khasnya.
Pencampuran dengan Keahlian:
Pemilihan dan pencampuran whisky dengan keahlian menciptakan harmoni yang sempurna dari berbagai karakter.
Cara Penyajian yang Mengagumkan: Menikmati Kecemerlangan dalam Setiap Gelas
Grand Cru Tasting Experience:
Sajikan Glenfiddich Grand Cru 23  dalam gelas whisky khusus untuk pengalaman mengecap yang maksimal.
On the Rocks with a Twist:
Tambahkan es dan sejumput jeruk untuk merasakan sentuhan segar dan elegan.
Neat for Connoisseurs:
Bagi para penikmat sejati, nikmati Glenfiddich Grand Cru 23 Year Old tanpa campuran untuk merasakan kemurnian dan kompleksitas rasa.
Kesimpulan: Merayakan Kecemerlangan dengan Glenfiddich Grand Cru 23 
Glenfiddich Grand Cru 23 Year Old adalah sebuah karya seni yang memukau, menawarkan kecemerlangan dalam setiap teguknya. Setiap botolnya adalah bukti dari dedikasi terhadap tradisi dan kualitas tanpa kompromi. Selamat menikmati perjalanan rasa yang tak terlupakan dengan Glenfiddich Grand Cru 23 . Cheers untuk keanggunan yang terpancar dari setiap teguk
Tokopedia : Sulanginaja