The Macallan Harmony Collection 
Macallan Harmony Collection, sebuah kumpulan whisky yang merayakan keindahan harmoni rasa. Dalam artikel ini, kita akan menjelajahi sejarah kaya, asal-usul yang terpilih, proses pembuatan yang sangat terjaga, dan cara penyajian yang memaksimalkan keunikan rasa dari koleksi ini.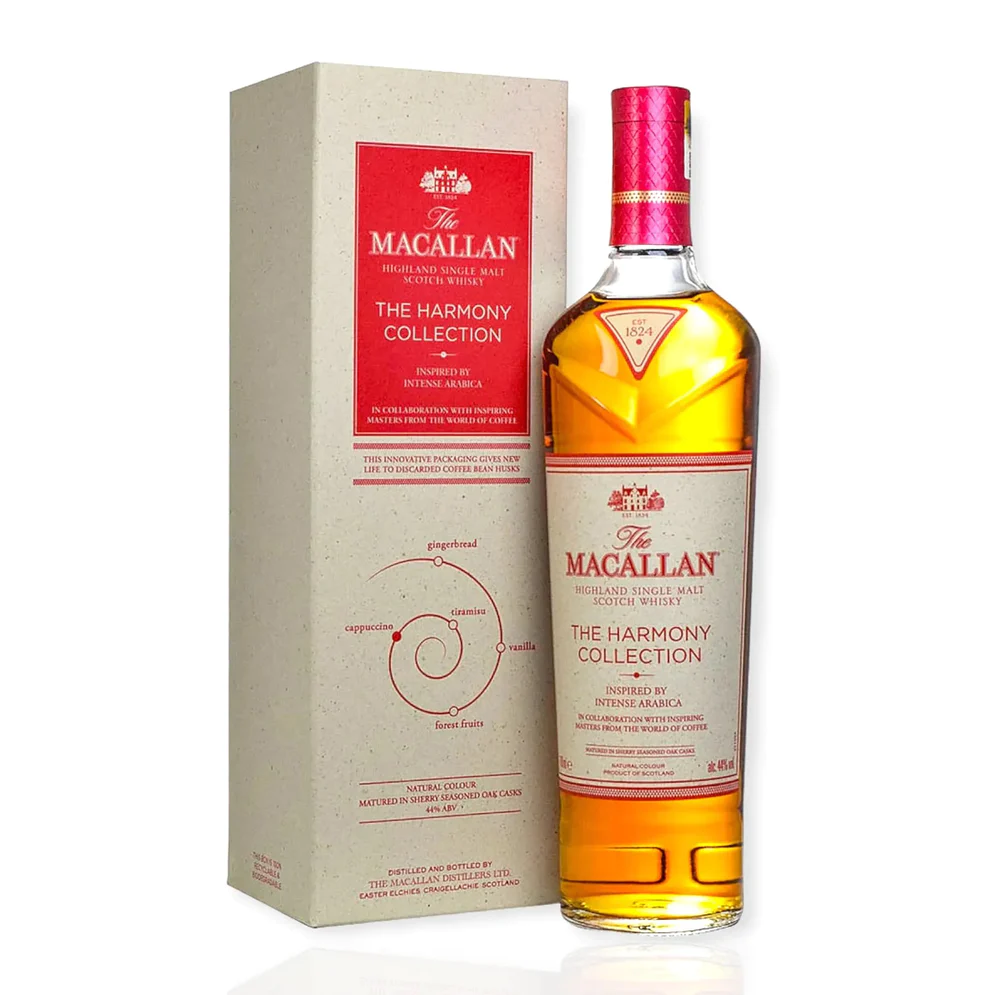 Sejarah Macallan Macallan Harmony Collection
The Macallan telah mengukir namanya sebagai salah satu produsen whisky terkemuka di dunia sejak 1824. Dengan warisan yang kaya, setiap langkah pembuatan The Macallan Harmony Collection mencerminkan dedikasi terhadap kualitas dan keunikan rasa.
Asal-usul Macallan Harmony Collection
The Macallan terlahir di tanah Speyside, Skotlandia, tempat alam, iklim, dan air menggabungkan keindahan ideal untuk menghasilkan whisky berkualitas tinggi. Tanah ini memberikan karakter khas pada setiap teguk The Macallan.
Cara Pembuatan dengan Detail: Proses yang Menciptakan Keseimbangan Rasa
Proses pembuatan The Macallan Harmony menggabungkan seni dan ilmu:
Pemilihan Bahan Berkualitas Tinggi: Barley yang dipilih dengan cermat untuk memastikan kualitas tertinggi.
Fermentasi dan Distilasi yang Teliti: Setiap langkah dari fermentasi hingga distilasi dilakukan dengan detail dan perhatian.
Penuaan dalam Tong Kayu Sherry yang Khas: The Macallan Harmony mendapat keunikan rasa dan aroma melalui penuaan dalam tong kayu sherry yang memberikan sentuhan khas.
Cara Penyajian yang Menawan: Menghormati Keindahan Rasa Whisky
Gelas Whisky yang Sesuai: Pilih gelas yang memaksimalkan aroma dan memberikan pengalaman minum yang lebih baik, seperti tulip glass atau copita glass.
Penambahan Air (jika diinginkan): Beberapa penggemar whisky menemukan bahwa menambahkan sedikit air dapat membuka lapisan rasa yang lebih dalam.
Penyajian pada Suhu yang Ideal: The Macallan Harmony dapat dinikmati pada suhu ruangan yang ideal, memastikan bahwa semua rasa dapat berkembang dengan baik. The Macallan Harmony bukan hanya sekadar whisky; itu adalah pernyataan akan keharmonisan rasa. Dengan setiap teguk, Anda merasakan perpaduan sempurna antara kekayaan rasa dan kelembutan, menciptakan pengalaman minum whisky yang mendalam.Penutup: Mengukir Kenangan dengan The Macallan Harmony

Dengan The Macallan Harmony, setiap teguk adalah perjalanan ke dalam keharmonisan rasa yang tak terlupakan. Nikmatilah setiap momen minum whisky dengan kemewahan dan keunikan The Macallan Harmony, sebuah karya seni yang terwujud dalam setiap tetesnya. Selamat menikmati petualangan rasa yang indah dengan The Macallan Harmony!