The Macallan Rare Cask
The Macallan Rare Cask. Dalam artikel ini, kita akan menjelajahi sejarah yang kaya, asal-usul yang eksotis, proses pembuatan yang sangat cermat, dan cara penyajian yang akan memberikan pengalaman minum whisky yang tak terlupakan.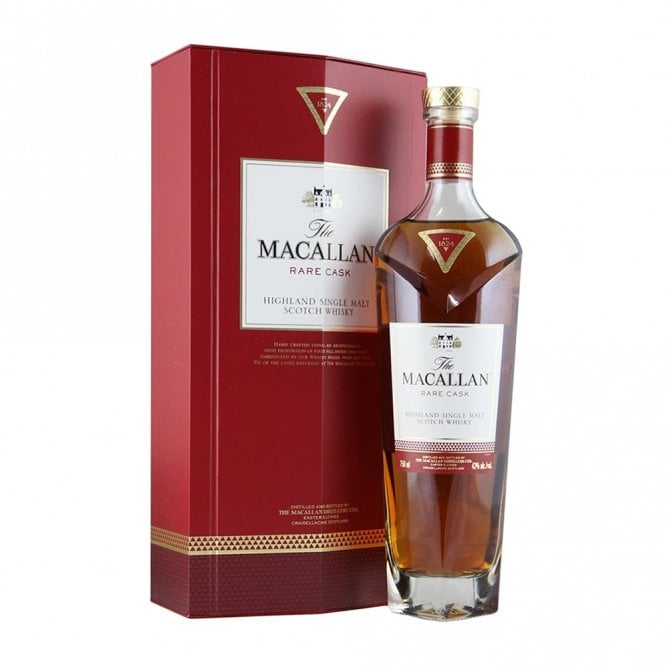 Sejarah The Macallan: Warisan Whisky yang Mewah dan Kaya
The Macallan telah menjadi ikon di dunia whisky sejak didirikan pada tahun 1824. Rare Cask adalah persembahan langka dari warisan yang kaya ini, sebuah wujud dedikasi terhadap kecintaan terhadap kualitas dan keunggulan.
Asal-usul The Macallan Rare Cask: Dari Tanah Speyside yang Megah
The Macallan Rare Cask lahir dari tanah yang subur di Speyside, Skotlandia. Di daerah ini, alam dan iklim memberikan lingkungan ideal untuk proses pembuatan whisky yang superior. Setiap teguk mencerminkan karakteristik unik dari tanah yang melahirkannya.
Cara Pembuatan dengan Teliti: Seni Distilasi dan Penuaan yang Mewah
Proses pembuatan The Macallan Rare Cask memerlukan waktu dan perhatian khusus:
Pemilihan Bahan Berkualitas Tinggi: Barley dan air yang berasal dari sumber yang sangat dijaga untuk memastikan kualitas terbaik.
Fermentasi dan Distilasi yang Meticulous: Teknik distilasi yang cermat untuk mempertahankan karakteristik rasa yang unik.
Penuaan dalam Tong Kayu Sherry yang Langka: Rare Cask mendapatkan sentuhan magisnya melalui penuaan dalam tong kayu sherry yang langka dan eksklusif.
Cara Penyajian yang Mewah: Menikmati Kemewahan Rasa
Cara Anda menikmati The Macallan Rare Cask dapat meningkatkan pengalaman minum whisky Anda:
Gelas Kristal atau Copita Glass: Pilih gelas kristal atau copita glass untuk menangkap setiap nuansa aroma dengan sempurna.
Penambahan Air Sedikit (jika diinginkan): Beberapa penikmat whisky menemukan bahwa menambahkan sedikit air dapat membuka dan melembutkan rasa.
Penyajian pada Suhu Ruangan yang Ideal: The Macallan Rare Cask paling baik dinikmati pada suhu ruangan yang nyaman, memungkinkan rasa untuk berkembang secara optimal.
Keunikannya dalam Botol: Menyelami Kecanggihan Rasa Whisky
The Macallan Rare Cask bukan hanya sekadar whisky; itu adalah pernyataan eksklusivitas dan kecanggihan. Setiap botolnya adalah karya seni dan keindahan yang menggambarkan keunggulan dalam pembuatan minuman.
Untuk Pemebelian bisa kunjungi Tokopedia kita dengan nama : Sulanginaja